The Beginning
Kenny Bayless grew up in Berkeley California and was introduced to boxing via ABC's Wide of World of Sports.
He quickly became a die-hard Mohammed Ali fan and follower of the sport.  After graduating from college, he was recruited to teach school in Las Vegas.  He was happy for the job opportunity but excited for the chance to get up close and personal with the sport of boxing.  He was hired by the Clark County School District in 1972, and at his first opportunity, began to regularly attend fights.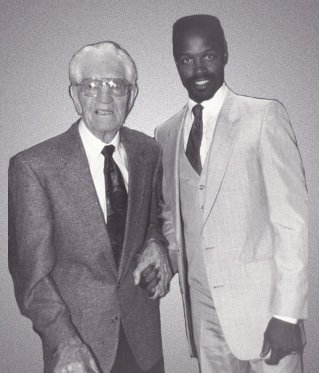 Golden Gloves
In 1977, Kenny looked for a way to become more involved in the sport and began volunteering with the Golden Gloves program as an amateur judge.
Around the same time, he became friends with Johnny Lehman, a glove man for several promoters and a boxing inspector for the Nevada Athletic Commission.  Kenny assisted Johnny in his various tasks which allowed him access to more fights and the opportunity to compare his scorecards with the professionals.  Jerry Roth, a Nevada boxing judge, was a mentor he regularly sought out.  Jerry asked him one day, "Why don't you try refereeing?"  Kenny thought about it and decided, "Why not?"  He sought the help of former Nevada referee, Richard Steele, and prepared himself to enter the ring as an amateur referee in 1982.
In 1985, when Johnny retired from the commission, he recommended Kenny for his position. 
Kenny was hired and in addition to working the corner as an inspector, he continued volunteering with the amateur program with the hopes of eventually becoming a professional referee.   After 12 years of refereeing for Golden Gloves, and 6 years with the Commission, his opportunity finally came.
Professional Referee
Kenny was appointed as a professional referee in 1991, and in 1994, officiated his first world title fight.
He has been third man in the ring for thousands of bouts and over 100 title fights.  He has refereed around the world–Japan, Thailand, Korea, the Philippines, China, Switzerland, Russia Mexico as well as the U.S. Kenny was inducted into the Nevada Boxing Hall of Fame in 2014.
NEVADA BOXING HALL OF FAMER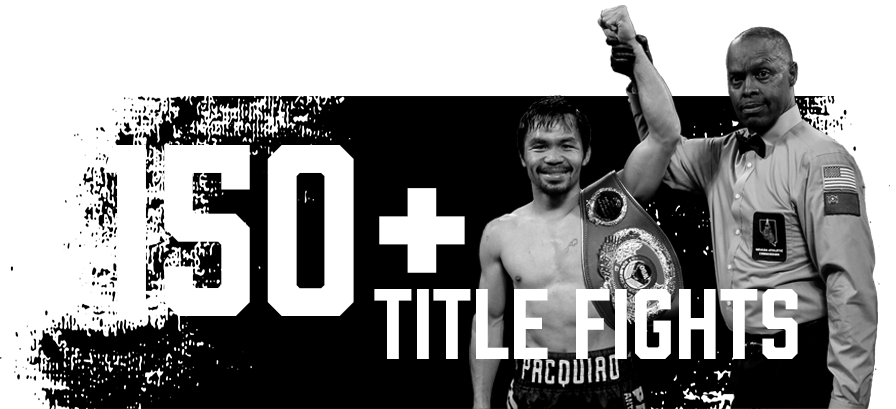 Notable Fights Include:
| | | |
| --- | --- | --- |
| 2020 | | |
| Deontay Wilder | vs. Tyson Fury | WBC World Heavyweight Title |
| 2019 | | |
| Deontay Wilder | vs. Luis Ortiz | WBC World Heavyweight Title |
| Manny Pacquiao | vs Keith Thurman | WBA Super World Welterweight Title |
| Tyson Fury | vs Tom Schwarz | WBO Inter-Continental Heavyweight Title |
| 2018 | | |
| Lucas Martin Matthysse | vs. Manny Pacquiao | WBA World Welterweight Title, (Lampur Malaysia) |
| Erislandy Lara | vs. Jarrett Hurd | IBF, IBO and WBA World Super Welterweight Title I |
| 2017 | | |
| Gennady Golovkin | vs. Saul Alvarez | IBF, IBO, WBA and WBC World Middleweight Title |
| Carl Frmpton | vs. Leo Santa Cruz | WBA Super World Featherweight Title |
| 2016 | | |
| Jessie Vargas | vs. Manny Pacquiao | WBO World Welterweight Title |
| Saul Alvarez | vs. Amir Khan, WBC | World Welterweight Title |
| 2015 | | |
| Floyd Mayweather Jr | vs. Andre Berto | WBA & WBC World Welterweight Title |
| Sergev Kovalev | vs. Nadjib Mohammedi | IBF, WBA and WBO World Light Heavyweight Title |
| Floyd Mayweather, Jr. | vs. Manny Pacquiao | WBC and WBO Welterweight Titles |
| Keith Thurman | vs. Robert Guerrero | WBA Welterweight Title |
| Leo Santa Cruz | vs. Jesus Ruiz | WBC World Super Bantamweight Title |
| 2014 | | |
| Alexander Povetkin | vs. Charles Takam | WBC Heavyweight Title (Moscow, Russia) |
| Floyd Mayweather, Jr. | vs. Marcos Maidana | WBC and WBA Welterweight Titles |
| Timothy Bradley | vs. Manny Pacquiao | WBO Welterweight Title |
| 2013 | | |
| Floyd Mayweather, Jr. | vs. Saul (Canelo) Alvarez | WBC and WBA Welterweight Title |
| Jermell Charlo | vs. Harry Joe Yorgey | WBC Continental Americas Title |
| 2012 | | |
| Manny Pacquiao | vs. Juan Manuel Marquez | 4th Meeting |
| Danny Garcia | vs. Amir Khan | WBC Light Welterweight Title |
| 2011 | | |
| Manny Pacquiao | vs. Shane Mosley | WBO Welterweight Title |